GOELLER CLEATS for BRIDGES with TIMBER FLOORS




Our standard HED Cleats are designed for use with 6 to 10 inch I-Beams. The Cleat is also a perfect fit for 7 and 8 inch beams and the elliptic hole allows adjustment on slightly smaller or larger beams. This adjustment feature eliminates a need to stock special sizes for seldom used size beams.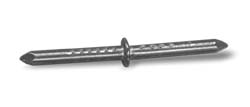 HED BRIDGE CLEATS and DOUBLE POINT NAILS for OLD or NEW FLOORS


County Engineers and Highway Supervisors have used GOELLER HED Bridge Cleats for many years to lay plank and strip flooring on steel beams. The Cleats clip to the beams and channels and when nailed to wood members, the flooring is anchored securely to the joist system. Application of cleats to each beam ties every plank and when completed, a solid slab floor is created. All timbers are snug and tight against each other and the whole bridge structure is strengthened and stiffened. Beam resistance is added in the joist system through increased lateral support.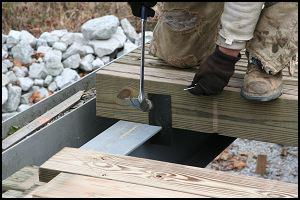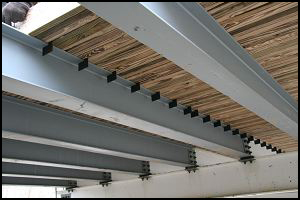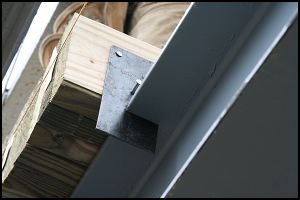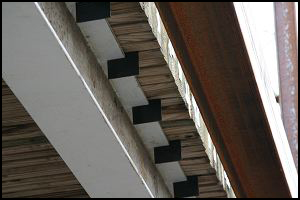 HED Double Point Nails are optional on strip and edge set flooring,
but are required on all Plank Floors.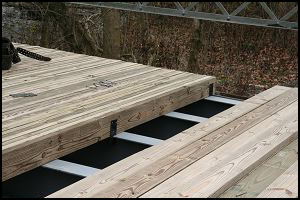 The Double Point Nails tie the plank together and provide concealed nailing. No vertical nailing is needed. As there are no spikes to work out on top, the planks should not creep and loosen to cause bang and chatter. Proper installation should eliminate tendency of floor to buckle or sway horizontally.
An economical and practical fastening device where ever wood is placed on steel. Farms, golf courses, forest preserves, parks or walkways on city bridges.

HED BRIDGE CLEATS CONFORM TO
INDIANA STATE HIGHWAY SPECIFICATIONS


HED Cleats are applied at every plank and each stringer. Be sure each plank lies evenly on all joists and against the others. Check frequently with level. If this is done double point nails will protrude exactly straight and will fit easily into the next plank and this plank against the others.







When using edge set 2 X 4 boards, place HED Cleat on every stinger and on every sixth 2 X 4 board. Use plenty of spikes for the in-between 2 X 4 board's. Be sure to spike through at least two at a time and into the next one.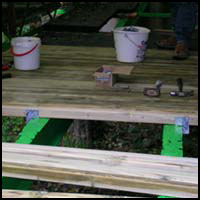 Here, each plank or 2 X 4 is fitted to the other. If your double point nails have been driven straight and each plank lies evenly, you can butt one tight and firm against the preceding plank.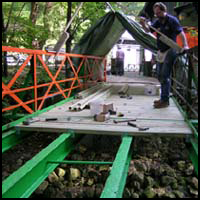 HED Cleats are also widely used with 3" X 4" and 4" X 4" Strip Flooring. The use of HED Double Point Nails are optional with this type of flooring.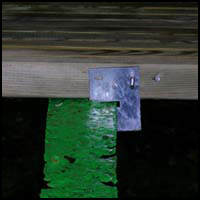 Here is a simple application of HED Cleats. When they are placed like this, lateral play in eliminated.






HED CLEATS ARE USED EXTENSIVELY ON TEMPORARY OR WORK BRIDGES
FOR MORE INFORMATION OR TO ORDER GOELLER HED CLEATS,
CALL TOLL FREE AT 317-241-3447