Texas Building Products, Inc.
Strawn, Texas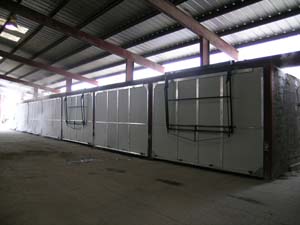 Texas Building Products is one of the largest concrete block manufacturers in Texas. Producing over 5,500,000 blocks each year, product quality and operation energy costs are a constant focus. Texas Building Products began searching for answers to their production quality problems when their "uncured" block rates began to reach 30%. Their search lead them to realize that the irregular cure problem was the result of poor sealing closures on their kilns. TBP contacted Universal to discuss how the UDC doors could solve these issues. UDC met with Texas Building, then proceeded to design and install doors for their kilns.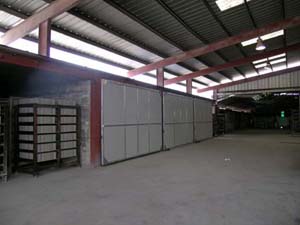 "The doors have saved us up to half of our energy bill. We are not losing stream out of the doors like we were with the old curtain system. The gaskets and the way the doors fit solved this problem."
Tim Jenkins
Production Manager
Texas Building Products, Inc.
The high performance design of the UDC doors provided a sure, tight seal to the kiln opening. This design reduced Texas Building's irregular cure problems to near zero while dropping their operating energy costs by almost 50%!

TBP is now in the process of installing UDC doors on the balance of their kilns.

Contact UDC today to see how the best designed, most efficient kiln doors available can help you "open doors to quality and profits"!

Close the door on "curing" problems and high energy costs,
by opening Universal Doors to Quality and Profit!
See more photos of the Texas Building Products installation